How to reach us
The Micro- and Nanostructured Materials Lab is located in building 19 (former location of the Nuclear Eng. Department) at Politecnico di Milano (Leonardo Campus), Italy. The Lab address is via Ponzio 34/3.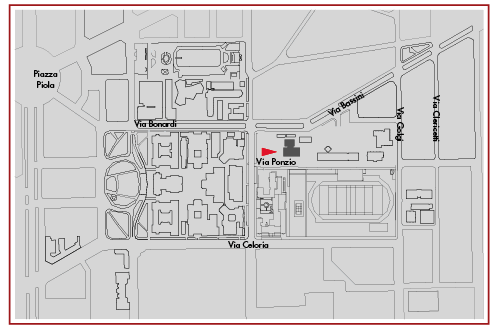 From Central Station (train station - FS):
Take subway line 2 (green line) toward Piola (Cologno/Gobba/Gessate direction). Once you are outside, follow the indications toward Politecnico. In piazza Leonardo da Vinci keep going following via Bonardi (the street with cable cars in the middle). At the streetlight, cross the street and turn right in via Ponzio and take the first small closed road on the left - via Ponzio no. 34.
From Malpensa airport:
Take the Malpensa Express train into Milano, Stazione Nord (prices and timetables at http://www.malpensaexpress.it ). Once there, take subway line 2 (green line) and follow the above indications. The approximate time to reach the Department is 1 hour and a half.
As another option, there is a bus service from the airport to Central Station (train station): this second trip takes usually longer.
From Linate airport:
Take bus No. 73 to viale Campania (ask the driver for the correct stop), then bus No. 93 to via Ponzio (bus direction toward Piazzale Loreto). Get off the bus at Ponzio/Bassini stop. Approximately 20 meters back on the same sidewalk, the first small closed road on the left is via Ponzio no. 34.
How to reach us by taxi
It is a 10-15 min. trip from Linate airport and from Central Station. It takes about 1 hour from Malpensa airport.
Approximate costs: 11 Euro from Linate, 50 Euro from Malpensa, 12 Euro from Central Station.
Advice the driver that via Ponzio 34/3 is a small road starting from Via Ponzio, behind the Politecnico main buildings, and that the Department is almost in front of the Giuriati Sport Center's entry.